This is a longer post, but an excellent one from Eduardo and Martha.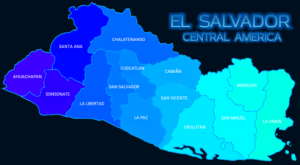 During our early days of ministry, here in Metapan, El Salvador, I heard a knock on my door very late at night and so I quickly got Martha, Eddy and Nataly locked into one of the bedrooms with a cell phone to call 911 in case any kind of trouble had arrived at our doorstep.  In the meantime, I opened the door to a couple of strangers that had found their way into our home after hearing me preach for the last six months… it sure was one of our scariest moments in our early ministry here.  Glory to God for in the last couple of years or so, I have witnessed the transformation of many people as they turn back to the foundations of our faith.  This has been evident in whole families and individuals in how they parent, in their marriages and in their work places. I would like to tell you the story of just one of those families…
His name is Benjamin, a welder by trade.  The night he knocked on my door he felt unsafe so he took a friend along.  It was evident the Word of God had been confronting him for some time so I invited him in and made some coffee for us.  That night, he told me his life story and his financial debt of about $30,000.  He felt there was no way out but needed to hear the truth and so I told him he was living beyond his earnings; hence, he was living an immoral life style and that came with consequences.  He then proceeded to tell me that he did not understand how he had ended up where he was because he was faithful to God, had attended church for 20 years and tithed every week.  I told him he was tithing money that belonged to Cesar (the bank).  I told him he had been faithful to the institution of the church but not to Christ.  That night, we read the Sermon on the Mount with its commentary by Martin Lloyd John and so we have been reading the Bible together since that night.
Benjamin had tried his best but could not make ends meet.  Finally, he tried to convince his wife and children of the immoral life style they were living (taking out loans to pay other loans) but her answer was, "that is life".  His answer to her was, "It is not the life according to Jesus".  A year later, with many tears, they sold their only home for $12,000 (about a 3 year income for the average Salvadorian).  Everyone around him, his wife, friends, family and even his church, encouraged him to run to the US with that money.  By this time, however, the money may have been in his hand but Jesus was in his heart.  He later told me he had spent many nights screaming for Jesus' help in his own backyard begging God to close the mouths of all that were tempting him. Therefore, he made his way to the bank and gave all the money to them.  The bank manager was in shock, it was unheard of for them.  This meant, however, renting a place where he had to build a little tin shack with his bare hands… still the bills for the remaining $16,000.00 debt kept coming and the interest kept building up.  His need was so great; he would sometimes bring his children to the bible studies so Martha would feed them while we studied the Word of God.  Truly, God is able!
The bank manager was so moved by his manhood in Christ, that she and other bank employees would call him every time the bank collectors were sent to his house to repossess his furniture and other belongings such as fridge, stove, and the most painful of all, his motorcycle. But, by this time Benjamin had learned that even those material things were not his but the banks and so, "how can I hide it from them?" he would say to them on the phone.  The collectors became so familiar with this man that saw no need to take weapons with them to collect the goods.  The manager interceded for him with head office three times to refinance his debt so he could get his motorcycle back.  She finally got through to them and got his motorcycle back, but two days later, he sold it and took the money to the bank… "$1,000 less on his debt" he thought.
This man's transformation was no small news at the bank… so much that they held a thanksgiving meeting to God for this faithful man of God. The manager of the bank said to Benjamin, "I believed I was a Christian, until I met you!"
In the meantime, temptations kept coming his way…cement cargo trucks would stop in front of his house to offer him cement bags for $5.00 knowing he needed to lay down a concrete floor on his little tin shack.  "Why are they so cheap?" he would say to them.  "We will tell our boss they fell off the truck during the transportation process" they would respond.  Benjamin's wife says he would just turn his back on them as tears would rolled down his eyes and prayed for God to take away the temptations.  Meanwhile, his wife would turn to the truckers and say to them, "My husband is a follower of Christ and has no part in stolen goods".
Benjamin has reflected the light of Christ through honesty to the point he has regained the respect of his family and neighbors. He has so many welding jobs work that he cannot keep up with it. Some churches' Board of Directors keep track of his debt on a monthly basis and are in awe as to all that the Lord has and continues to do in this man's life.
I have seen this kind of transformation in about 14 men and women in this town.  I am thankful to the Lord for all I have done is preach His Word and have translated from English into Spanish many books written by the defenders of the faith.  Unfortunately, many of our Canadian and American modern churches have long forgotten these great fathers of the faith.  Teachings from Agustín de Hipona, Martin Luther, John Foxe, John Calvin, John Owen, Mathew Henry, Jonathan Edwards, William Carry,  J.P. Boyce,  Charles Spugeron,  R.C. Rayle,  Francis Schaeffer, C.S Lewis,  A.W. Tozer, Martin Lloyd Jones,  J.I Packer,  James Kennedy,  R.C. Sproul,  John Piper,  John MacArthur,  Steve J. Lawson, and others.  These teachings were never translated into Spanish because the Reforms never made it to Latin America.  Nevertheless, these are the teachings that are becoming more and more familiar to these dear followers of Christ.
We believe that Jesus glorified God on earth, by having accomplished the work that He gave Him to do. John 17:4 Emphasis added. How He did it? I have manifested your name (your nature, holly attributes, and your will) to the people whom you gave me out of the world. Yours they were, and you gave them to me, and they have kept your word. John 17:6. For I have given them the words that you gave me, and they have received them and have come to know in truth… John 17:6.  I have given them your word, and the world has hated them because they are not of the world, just as I am not of the world. John 17:14.