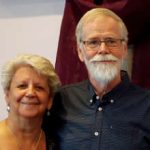 Richard Gilbert
District Co-Superintendent
Richard is an ordained minister, currently serving as Pastor at Bayview Evangelical Free Church, in Gimli, Manitoba. A position held for seven years. Richard works with his wife Judy, sharing ministry. Prior to pastoring the Gimli church Richard has ministered in Pastoral and Administrative roles.
During the twenty-nine years of church ministry, there were twelve years of church planting and cross-cultural ministry; working in French in Quebec and in France. Aside from pastoral ministry in churches, there have been several managerial positions in a Christian setting.
- Clinical Director Vancouver Harbour Light, with 185 employees and 13 residential treatment and housing programs.
- Executive Director: The Montreal Booth Centre. A multi-program residential treatment center.
- Program Manager/Pastor: Hope Acres Residential Addictions Treatment Centre
Over the years Richard's responsibilities have included, providing pastoral care and progressive leadership to the various churches, individuals, and treatment ministry units. Richard's objective is to serve by using his experiences and training to help individuals, churches and staff achieve their God given goals.
Kelvin Luong
District Co-Superintendent
Kelvin has joined the Central District team and will assist the interim Central District Superintendent one day per week in serving our churches and pastors in Southern Ontario.
Kelvin and Olivia Luong have served our Hallelujah Chinese Evangelical Free Church, Scarborough, in the past. They still live in the area and will provide an onsite presence for the EFCC in Southern Ontario. Those of you in Southern Ontario will soon hear from Kelvin and enjoy the benefit of his care and wisdom as you continue to serve our Lord.